Curiosity over fear.
Innovation over complacency.
Expression over suppression.
That's the promise of the Bay Farm Middle School, Bay Farm Montessori Academy's capstone experience.
As The Adolescent Colloquium (1997) from the Montessori Teacher Education Collaborative put it:
"To know one's place is to have an intimate knowledge of the local environment (both natural and built) and the various professional roles, shared histories, and interdependent relationships that sustain the community over the long term."
We have a duty to our youth to prepare them to meet an increasingly changing world with joy, with purpose, and with compassion. We have a duty to help them know their place, to establish a perspective ingrained with a sense of belonging, autonomy, curiosity and courage.
By the time students complete the Bay Farm Middle School program, they will have the physical, emotional, social and cognitive toolkit required to succeed at whatever they choose in life.
The Bay Farm Answer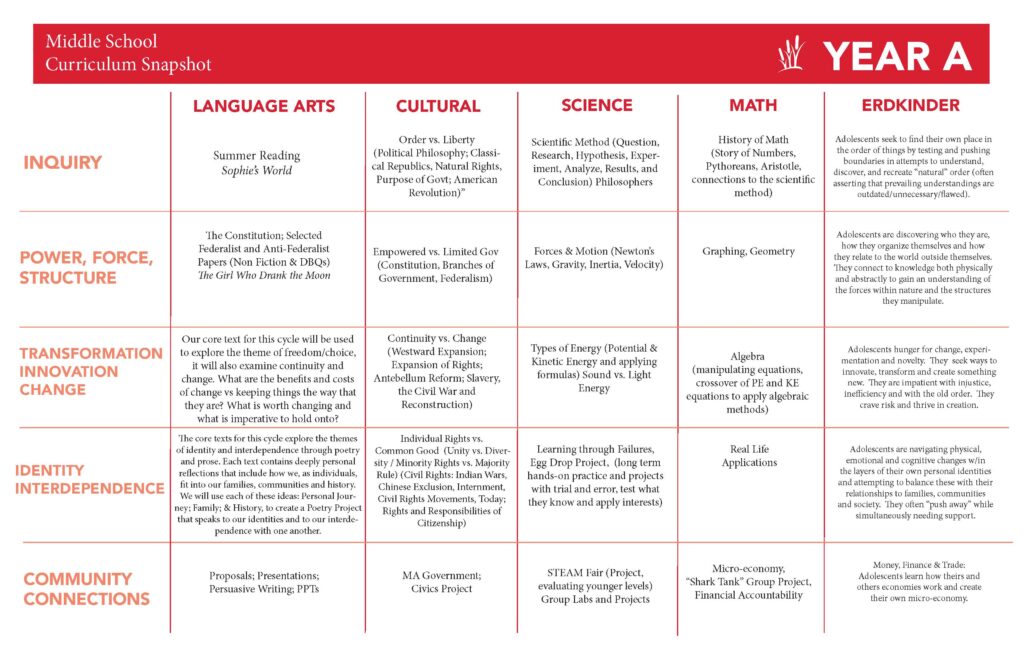 "The first aim of the prepared environment is, as far as it is possible, to render the growing child independent of the adult." 4
Bay Farm's Middle School inspires students with varied interests to deepen their talents, to seek understanding through collaboration, and to use self-expression as a means of productive citizenship.
We don't provide them with the answers and we don't expect them to have them themselves. Instead, we cultivate the ability to ask the right questions, use the right resources, and to make the profound connections necessary for success in a 21st-century life.
An Environment Prepared for Innovation
| The Shop | The Collective |
| --- | --- |
| The Shop is a highly adaptable space equipped with tools and technology for learning in the 21st century. From chisels to 3D printers, The Shop is the crown jewel of the new Middle School Space. | The Collective is a collaborative space for socialization, presentations and other small group activities, completed with projectors and A/V connections. |
| The Greenhouse | The Studio |
| --- | --- |
| The Greenhouse will be a space for students to understand ecological interdependence, our influence on that interdependence and the many ways we can foster sustainable living. | The Studio will be a modern multimedia creation hub. It will feature studio soundproofing, microphones for podcasting and recording, audio/video editing software, and more, to help students bring their stories to life. |
Bay Farm's new Middle School is built upon the physical foundations of the old Middle School, a literal overlay of innovation upon the foundations of the past. The new facility will incorporate two large classrooms and four distinct environments for unlimited exploration of a variety of disciplines, from audio/video editing to woodworking and engineering.
The Shop
The Shop is the innovative heart of the school – a highly adaptable space equipped with tools and technology for learning in the 21st century.
Toolboxes replete with woodworking and metalworking equipment provide students tangible understanding of their ability to craft and build while 3D printers, laser cutters and CNC machines allow them to bring more abstract ideas into physical existence.
The Shop is the place where students bring their learning and ideas to life in a collaborative, challenging culture with just the right amount of nurture.
The Greenhouse
Experimentation, classification and discovery through the lens of place, The Greenhouse secures a connection to Nature among all of our students.
Much like the plants themselves, the Greenhouse provides students with the nutrients required to understand their biology, their local habitats, about climate, energy and conservation.
The Greenhouse will also become a natural laboratory where students will experiment with energy-efficiency, sustainable environments and passive solar power.
The Collective
An intentionally designed space to support autonomy and connection, The Collective is a comfortable, intimate space which provides space to give presentations, enjoy lunchtime discussions, or just a quiet place to read and relax.
The space features a drop-down presentation screen, versatile and adjustable lighting for a variety of uses, and built-in speakers for presentations or just background music.
Guided Self-Expression
One of the key measures of adolescence education is whether or not students are able to express complex emotional and intellectual concepts in healthy and productive ways.
"Engaging in creative self-expression is a wellness practice, as beneficial to your child as spending time in nature, good nutrition, sleep, and physical exercise.," said Dona Matthews, PhD, author of Beyond Intelligence: Secrets for Raising Happily Productive Kids. "Creative self-expression reduces stress and increases a sense of well-being and other positive emotions. It helps to heal wounds and bridge differences, supporting your child's health, well-being, resilience, and coping abilities."
Performing/Visual Arts
Bay Farm Middle School specials are more than traditional arts education programs. They're designed to tap into the emotional core of an issue a student faces, explored through the individual student and extrapolated outward to the world at large.
Performing and visual arts involve a survey of what has been, practical application of techniques of expression through a variety of media, and encourage the student to present ideas in ways that build on the past in innovative ways.
Movement Practices & Athletics
A blend of both performing arts and athletics, Bay Farm Middle School movement practices engage mind and body and encourage the deepening of connections between the students' bodies and minds, as well as foster the connections between themselves and others.
By exploring a variety of movement patterns, from Tai Chi and mindfulness to rock climbing and team sports, Bay Farm Middle School students are provided the same flexibility and self-direction in movement as they are in the classroom.